We Provide Innovative Inspection Solutions
We deliver niche solution and services to various industries in Asia.
Advanced Inspection Technology
For Your Industry
Delivering reliable inspection solutions with our latest advanced technology.
Our partners and clients value us for the quality of our inspection services.
You Deserve Best Inspection Solutions
We provide differentiated solutions to delight our clients and partners
Wide Range Of Inspection Solutions
For Every Needs
We provide exhaustive list of services for every industry needs.
Altair Engineering Inspection Formerly well known as A – star Training & Consultancy,we are one of the pioneers in Non-destructive Evaluation since 2008. Altair has served more than 300 clients in the huge industries, such as Oil & Gas, Petrochemical, Refinery, Upstream, Transportation, Shipbuilding, Offshore, Construction etc.
We continuously bring innovative ideas for our clients with creative and unique inspection solutions to assure higher reliability of their assets. This makes us a niche player in the region.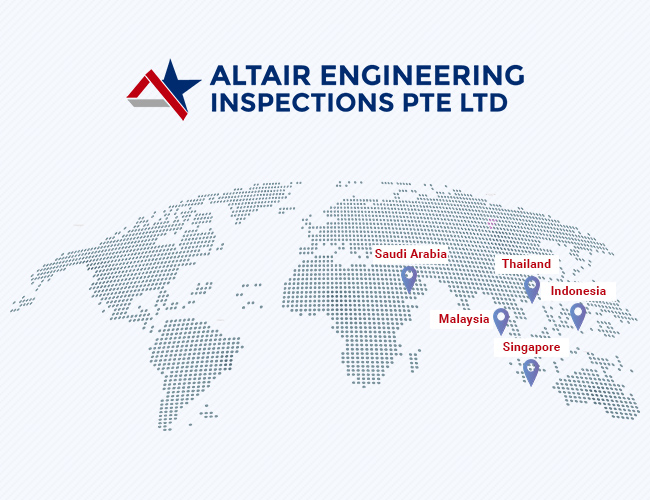 We provide solutions for all type of NDT including challenging and complex projects. We have well experienced and qualified crew specifically experienced in handling inspection of various products to meet customer requirements. Our company is accredited to ISO9001, ISO17025, SAC-SINGLAS, DNV-UKAS & Biz Safe Level 4 requirements. We supply our inspection crew for various NDT methods with equipment. Following are our specialization services offered to various industries.
NDT keeps the world safer! Almost all products which requires highest assurance for its intended use requires RIGHT NDT services.
Altair is passionate about its role in keeping world safer and this is translated into our actions. We apply scientific methodology using state-of-the-art modelling software called CIVA for more critical inspection needs. This is above the regulations of National and International standards. Our deterministic approach assures you, customer's and all stake holders on outcome that is as it is! We Love our Job.
Contact us for your inspection needs
We are Leader in NDT Market